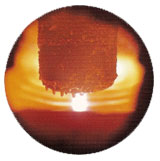 At Phoenix, we are serious about providing solutions. Our designs are built on proven performance, and our R&D and Quality Assurance Programs work together to continually improve the reliability and durability of our systems and parts. Over the last four years, PSC has improved electrode life in harsh process environments.
In 2006 PSC began fabrication on a collimator designed in response to customer feedback. The new design improved collimator performance and durability. At Phoenix Solutions, we continually work with our customers to improve system performance, and to provide the best solutions for them.
At Phoenix Solutions, every project is managed start to finsh with one guiding philosophy: providing the solution to our customer's problem. Our job doesn't end until your solution is found.