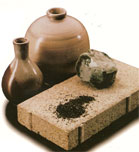 Pottery and bricks made from the inert glassy byproduct of PSC Plasma-processed waste.
The unique characteristics of Plasma Heating offer incredible opportunities for green technology. Plasma Heating generates higher temperatures than oxygen burners or electric resistance heaters. Plasma Heating can make vitrification and gasification cost-effective, and eliminates nearly all the pollution encountered with combustion. By offering the ability to break down feedstocks to molecular levels while controlling the operating environment of the system, Phoenix Solutions Plasma Heating technology represents a fundamentally new method of processing materials.
The byproduct of plasma-processd inorganic waste streams is a chemically inert glassy slagwhich can be recycled into a number of useful materials including roadbeds, architectural tile and even artwork. MetalRecovry, a PSC subsidiary, has pioneered research in the fabrication of high-quality architectural tile made from recycled brass dross. Our Plasma Heating technology offers a vision for the future where waste is channeled not to landfills but to power plants.
Highlights of PSC Plasma Technology:

Plasco Energy Group in Ottawa, Canada utilizes PSC Plasma Heating Technology to generate profitable electricity from municipal waste.

Kobelco Eco Solutions in Kobe, Japan utilizes PSC Plasma Heating Technology to remediate ash from municipal incinerators, reducing the volume and toxicity of the waste that is left to go to the landfill.

ENERSOL Technologies in Lorton, VA utilizes PSC Plasma Heating to generate ultra low-sulfur synthetic fuels, a cleaner burning alternative to gasoline.
Japan Atomic Energy Agency in Tokai, Japan utilizes PSC Plasma Heating to melt and process low-level nuclear waste.